We have added a new feature, support for discount coupons. Starting today, you can create discount coupons that can be easily managed in the PayForm dashboard. These coupons are cross-gateway, this means they apply for all gateways that you have configured for your form, and can be easily added and deleted using the PayForm dashboard.
Keep in mind that, to use coupons, you must create a Coupon field in the forms where you want to accept them. In this step by step tutorial, we will guide you through this process.
Step 1 – Create or edit a PayForm to include a Coupon Field
In order to accept coupons in your payment forms, you should add a Coupon field first. On the PayForm creation or edition page, click on Add field, and then select Coupon. You can put any text as the field label. These fields look similar to a regular text field, with the difference that they automatically react when the user enters a valid coupon code.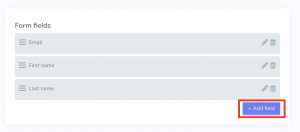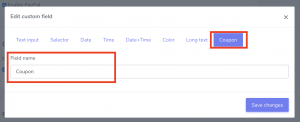 Step 2 – Add a coupon code to your account
You can add coupon codes associated with one or more PayForms (please keep in mind that you need at least one PayForm to add a coupon code). Select Coupons on the left menu of the PayForm Dashboard and Add coupon. The settings you can configure for each coupon are:
Coupon name: The text your users will enter to use your coupon. This is case-insensitive, for example, HELLO50
Applies to which forms: Select the forms that this coupon will apply to. All forms selected must be in the same currency.
Coupon discount: It can be either a discount percentage (20% off) or a fixed fee (US$10 off).
Applies to: It can be to the main price (the price of your product or service, or installment) or the Set-up fee (if you have configured one under Advanced options). In the case of subscriptions, the main price discount is applied to all installments.
Coupon expires: The coupon expiration date in UTC time.