We're excited to announce a long-awaited feature to PayForm. Starting today, you can add customized HTML to extend your forms to fit your needs. Just select the new Left Side Content option when creating or editing a PayForm. In this article, we're going to explore great things you can achieve with this new feature.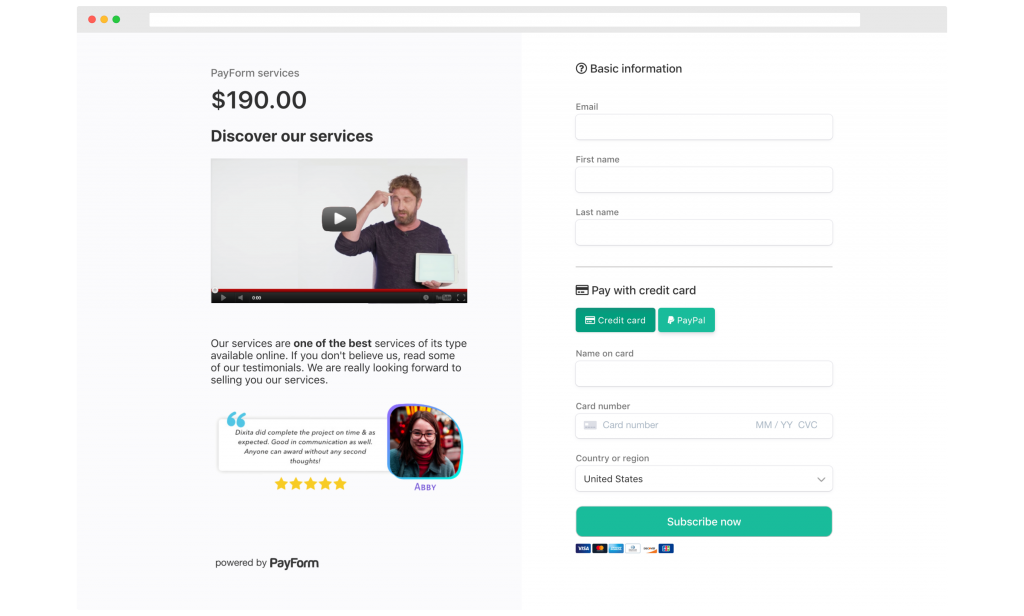 Get creative with YouTube videos
Embed YouTube videos directly in your forms using the video icon in the toolbar. We built an easy to use interface where you can paste any video link from providers like YouTube, Dailymotion and more. Use them to convert customers!
Videos embedded using this tool are automatically responsive, so they will look perfect on every screen. Showcase customer testimonials or talk more about your product. Video is a great way to complete payments.
Include customized photos and GIFs
Add images to your PayForm using tools like Imgur or Giphy. Add a little fun to your forms and design them to fit your business style. Also, showing customer testimonials is easy and beautiful using images. The sky is the limit!
After you attach an image to your editor, you can use the size selector to adjust its percentage size to fit the left content bar.
Track your conversions using pixels
While <script> tags are locked for security reasons in the new HTML section, you can still add conversion pixels like the Facebook pixel or use the Google Analytics UTM pixel to track your visitors. Now PayForm has full integration with Google Analytics out-of-the-box (visit Settings/Integrations).
You can test several campaigns and understand your users' behavior when in the checkout form. Just add the code for your desired trackers in the HTML view of the editor.
Embed anything you want
If something fits an iframe, it can be embedded in PayForm! We really can't wait to see everything you will create using this new feature, and as always, you can reach our support portal for any questions regarding the implementation.
Please keep in mind that the new HTML view is only available for the forms with the new design. If you haven't upgraded your forms, this is a new reason to do so. Happy customizing!