If you ever needed to create a registration form for events, chances are you have used solutions like Google Forms. But did you know that with PayForm you can create registration forms that accept payments?
In this article, we are going to explore how you can create beautiful registration forms for events using the payment forms and conversion pages from PayForm. And also, we are going to offer some tips and tricks for virtual events.
Using PayForm to create a registration form for events
While collecting your assistants' data is important in events, you also need to accept payments. For this reason, solutions like Google Forms really lag behind. And when you just need a simple registration form, ease of use and responsiveness are key.
For this reason, we can use PayForm. You can use it to create simple and beautiful registration forms where your assistants can enter their data and make their payments. You can customize all the fields in the payment form and collect all the information you need from your users, including selectors and other types of advanced fields.
Once your form is ready, you can embed it on your website and send it to anyone via email, WhatsApp or link it from anywhere.
Create a conversion page to make your form more attractive
But creating a payment form is just the beginning. With PayForm you can build beautiful landing pages (called conversion pages), that can help you convince users to sign up for your event. Add countdowns, action buttons, videos, and other elements to encourage people to sign up.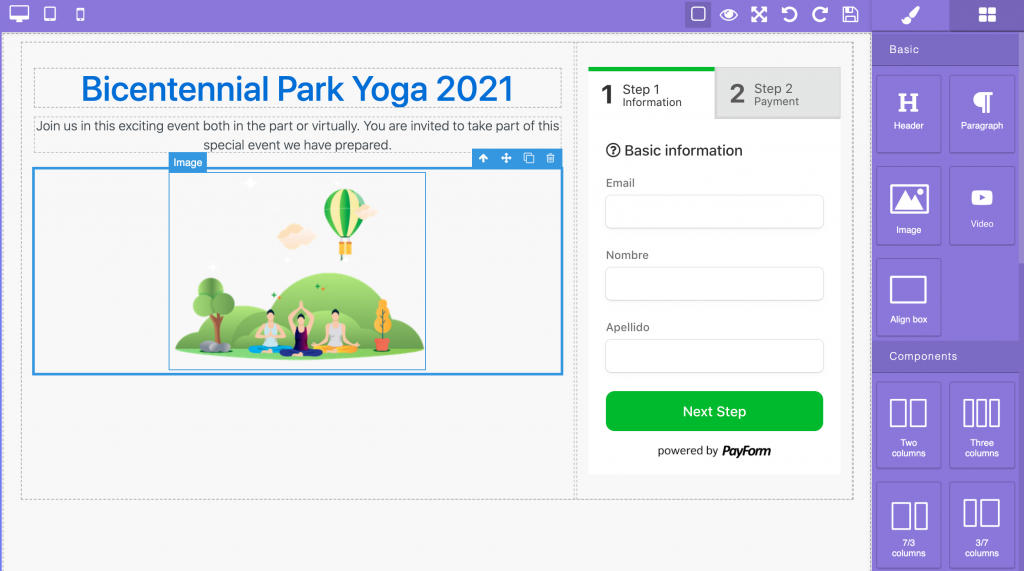 Also, conversion pages share the same URL as your original form so you can start with a simple design first and then upgrade it to a conversion page later.
Hosting a virtual event? Use PayForm member areas for your attendees
If you are hosting a virtual event, PayForm can also be an excellent choice for your registration form. With member areas, you can create private sections where only your attendees can access with a password. Add videos, files, and other content for them.
PayForm offers a 7-day free trial where you can test all this functionality and start receiving registrations for your event easily.