Stripe is one of the best payment processors available, specially for small businesses and startups. But it integration to your WordPress site can be saunting, specially if you don't use a shopping cart solution. In this article, we're going to see how to use Stripe with WordPress the easy way, without any coding experience. You will use tools you already know in WordPress to accept payments using Stripe in record time.
Why use Stripe with WordPress?
You already know WordPress. Actually, it powers more than 30% of all the websites in the internet. But most of them struggle with monetization, as there was not an easy way to accept payments online for their products and services. Luckily, there comes Stripe to the rescue.
Stripe made it easier for anyone to accept credit card payments without needing to open a merchant accounts and it became a revolution when it launched in 2010. But there was wan caveat. You needed code to integrate it (and you still need). So to use Stripe with WordPress required a heavy knowledge of PHP and databases. It's not something everyone is used to, but still, companies managed to do it hiring developers.
But, there are lot of regular people who just need to use Stripe with WordPress. Specially recurring subscriptions, just like Netflix or Spotify. There should be an easier way.
Use Stripe with WordPress through PayForm
To make the prcess of integration easier, we built PayForm. PayForm is a payment facilitator for Stripe that helps you create beautiful and simple chechout forms fully integrated with Stripe. It's as easy as pointing and clicking to build beautiful payment forms that work with all major credit cards.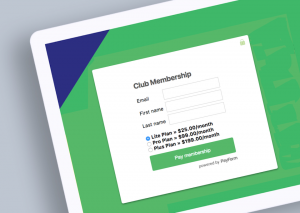 To build your first form is really easy and won't take more than a couple of mintes. You can accept one time and recurring payments, so that's really great if you are selling a monthly product or service. And what's better, you don't have to pay anything to get started and use Stripe with WordPress. You will be receiving payments in your own Stripe account in less than 5 minutes.
You can sign up to PayForm here.